Planet Microcap Showcase 2023
Coral Capital Advisors is pleased to announce that Erik Nelson, President of Coral Capital Advisors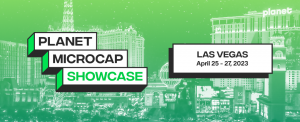 will be participating in the "Managing ESG and Services Efficiently" panel discussion at the Planet Microcap Showcase April 25th at the Horshoe Hotel & Casino (formerly Bally's) in Las Vegas.  In addition to participating in the panel discussion, representatives of Coral Capital Advisors will be hosting a table in the conference room.
We feel the Planet Microcap showcase is one of the premier networking events and for small and microcap companies.  The conference provides 3 days of company presentations, 1×1 meetings as well as educational panels.  We highly encourage investors, and companies interested in capital raising or increasing their investor awareness to attend.
We attended last year's Planet Microcap conference, and found it highly rewarding.  In addition to the numerous investment bankers and corporate executives we met with; we also met several individual investors, reporters, newsletter writers, and other industry professionals.  While many of the companies that presented at the event were looking to raise capital, several other were looking to increase investor awareness.  At least of the companies that presented in order to increase investor awareness, Kintara Therapeutics, Inc. 'KTRA', announced significant progress in the cancer treatment it is developing.  The individual investors we spoke with were all very bright and interesting people.  The newsletter writers we spoke with all provided valuable insight into the industries they covered.
We are looking forward to meeting those attending the conference.  If you are attending, please stop by our table and see how we may be off assistance.
For those interested in attending the conference, please contact Planet Microcap, or contact Robert Kraft at rkraft@snnwire.com or call: (818) 983-5500.
About Coral Capital Advisors
Coral Capital Advisors is an independent consulting and advisory firm focused on companies and participants in the lower and middle markets. We partner with our clients to provide cost effective solutions to real world issues and situations. Our experienced team brings a diverse set of skills that allows us to service a wide variety of needs.  Our area of services and expertise focuses on bringing services and solutions to our clients that are normally only available to much larger firms.  Coral Capital Advisors, LLC.  provides services to Investment Banks,  Private Equity Funds, investors, and both privately held and publicly traded companies, as well as various stakeholders in those organizations.  This has included international public companies with operations on three (3) continents to smaller privately held domestic companies.  Our experience in the areas of corporate advisory, due diligence reviews, and regulatory compliance allows for a cost effective and efficient solution to the issues at hand.  Please feel free to contact our offices to see how we may be of assistance.